Passat
Пассат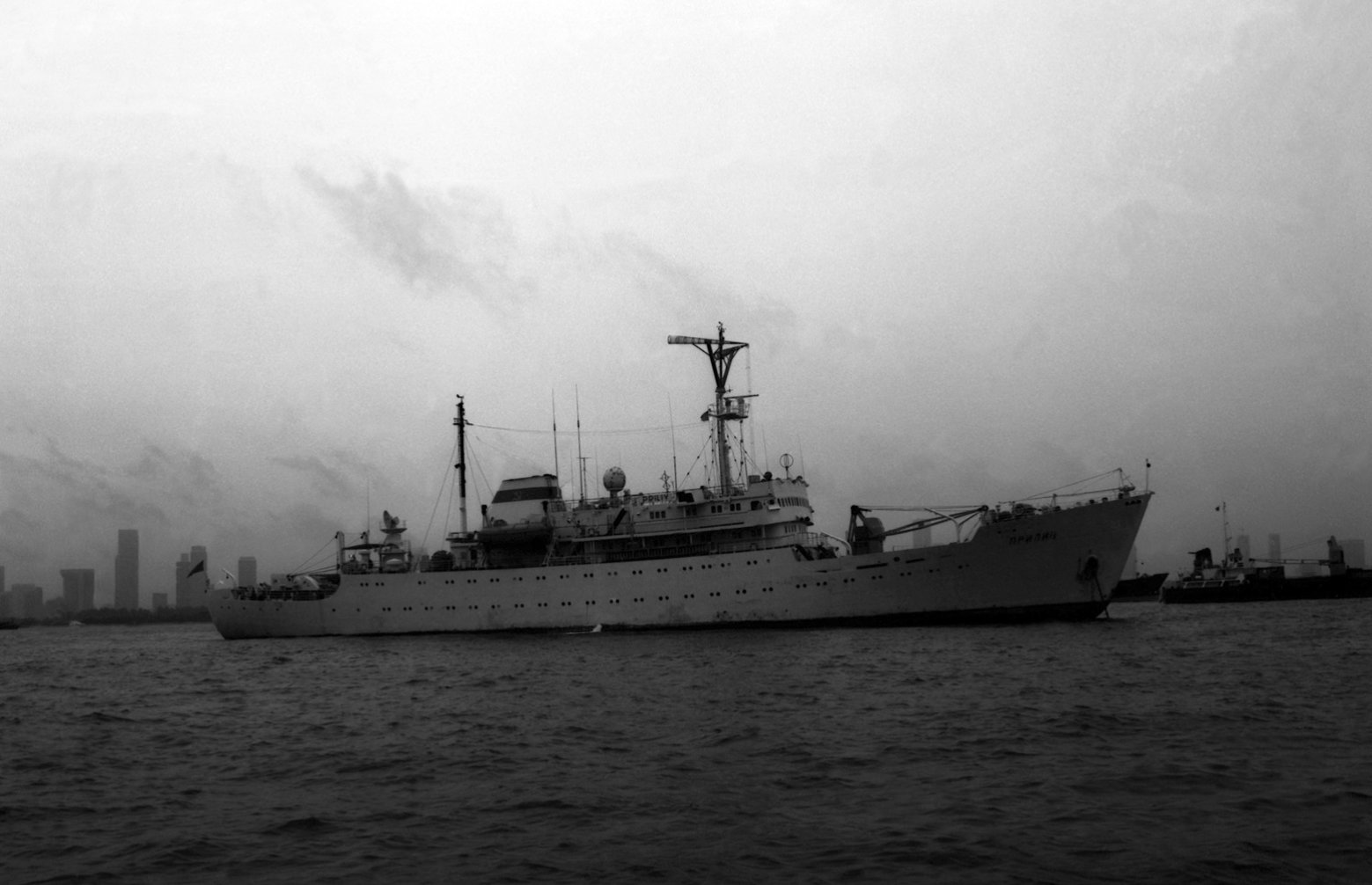 Photo from wrk.ru forums, file "Passat (V88) 2016-11-23.pdf".

The Passat launches are unusual in that they were almost all from the same location, 53N 35W, where Passat remained during its research.

Note: Cruise data for SU012423 puts Passat at the usual 53N 35W location on 1989 Jan 31. I therefore assume that PASS89A was also at that location for 1989 Feb 1-22. Similarly, SU012425 puts Passat at that location on 1989 Apr 25, 1 week before the start of PASS89B. PASS90B starts a few days after SU111251 but that cruise was more dynamic in location so it's less clear what one can infer.

Rockets used: MMR-06
Updated: 2022 Sep 29 04:27:43
Cruises: PASSAT
LC_Code
Active
Region
Cruise
CruiseMap
GMS80A
1980 Feb 1 - 1980 Mar 15
Minia, Atlantic Ocean
Passat Expedition 1, 1980 (SU000722)

NOAA

GMS82H
1982 Feb 1 - 1982 Mar 1
Minia, Atlantic Ocean
Passat Expedition 2, 1982 (SU001365)

NOAA

GMS82J
1982 May 1 - 1982 May 31
Minia, Atlantic Ocean
Passat Expedition 3, 1982
-
GMS86G
1986 Feb 1 - 1986 Mar 15
Minia, Atlantic Ocean
Passat Expedition 4, 1986 (SU153122)

NOAA

GMS88H
1988 Mar 15 - 1988 Apr 15
Minia, Atlantic Ocean
Passat Expedition 5, 1988 (SU008536)

NOAA

GMS88J
1988 Nov 1 - 1988 Nov 30
Minia, Atlantic Ocean
Passat Expedition 6, 1988 (SU011600)

NOAA

GMS89G
1989 Feb 1 - 1989 Feb 28
Minia, Atlantic Ocean
Passat Expedition 7, 1989
-
GMS89H
1989 May 1 - 1989 May 31
Minia, Atlantic Ocean
Passat Expedition 8, 1989
-
GMS90B
1990 Jan 1 - 1990 Feb 1
Minia, Atlantic Ocean
Passat Expedition 9, 1990 (99141925)

NOAA

GMS90E
1990 Nov 1 - 1990 Nov 15
Atlantic Ocean
Passat Expedition 10, 1990
-
Updated: 2022 Sep 29 04:27:43
Launches: PASSAT
Date
Rocket
Flight
Mission
PlatCode
Platform
Site
LP
AscSite
AscLP
Pos
Apogee
1980 Feb 06 0700:00
MMR-06
-
-
PASSAT
Passat
GMS80A
LP1
-
-
35.0W 53.0N (+/- 1.0)
56.0
1980 Feb 15 0830:00
MMR-06
-
-
PASSAT
Passat
GMS80A
LP1
-
-
35.0W 53.0N (+/- 1.0)
60.0
1980 Feb 20 0800:00
MMR-06
-
-
PASSAT
Passat
GMS80A
LP1
-
-
35.0W 53.0N (+/- 1.0)
59.0
1980 Feb 27 0800:00
MMR-06
-
-
PASSAT
Passat
GMS80A
LP1
-
-
35.0W 53.0N (+/- 1.0)
52.0
1980 Feb 29 0730:00
MMR-06
-
-
PASSAT
Passat
MINIA
-
-
-
35.0W 53.0N (+/- 2.0)
57.0
1980 Feb 29 0900:00
MMR-06
-
-
PASSAT
Passat
MINIA
-
-
-
35.0W 53.0N (+/- 2.0)
57.0
1980 Mar 03 0400:00
MMR-06
-
-
PASSAT
Passat
GMS80A
LP1
-
-
35.0W 53.0N (+/- 1.0)
57.0
1982 Feb 12 0730:00
MMR-06
-
-
PASSAT
Passat
MINIA
-
-
-
35.0W 53.0N (+/- 2.0)
61.0
1982 Feb 17 0700:00
MMR-06
-
-
PASSAT
Passat
MINIA
-
-
-
35.0W 53.0N (+/- 2.0)
62.0
1982 Feb 19 0900:00
MMR-06
-
-
PASSAT
Passat
MINIA
-
-
-
35.0W 53.0N (+/- 2.0)
62.0
1982 Feb 21 0700:00
MMR-06
-
-
PASSAT
Passat
MINIA
-
-
-
35.0W 53.0N (+/- 2.0)
58.0
1982 Feb 22 0700:00
MMR-06
-
-
PASSAT
Passat
MINIA
-
-
-
35.0W 53.0N (+/- 2.0)
60.0
1982 Feb 24 0700:00
MMR-06
-
-
PASSAT
Passat
MINIA
-
-
-
35.0W 53.0N (+/- 2.0)
60.0
1982 Feb 26 0700:00
MMR-06
-
-
PASSAT
Passat
MINIA
-
-
-
35.0W 53.0N (+/- 2.0)
60.0
1982 Feb 28 0850:00
MMR-06
-
-
PASSAT
Passat
MINIA
-
-
-
35.0W 53.0N (+/- 2.0)
62.0
1982 May 03 0600:00
MMR-06
-
-
PASSAT
Passat
MINIA
-
-
-
35.0W 53.0N (+/- 2.0)
56.0
1982 May 05 0600:00
MMR-06
-
-
PASSAT
Passat
MINIA
-
-
-
35.0W 53.0N (+/- 2.0)
57.0
1982 May 07 0700:00
MMR-06
-
-
PASSAT
Passat
MINIA
-
-
-
35.0W 53.0N (+/- 2.0)
60.0
1982 May 10 0700:00
MMR-06
-
-
PASSAT
Passat
MINIA
-
-
-
35.0W 53.0N (+/- 2.0)
55.0
1982 May 12 0700:00
MMR-06
-
-
PASSAT
Passat
MINIA
-
-
-
35.0W 53.0N (+/- 2.0)
58.0
1982 May 14 0700:00
MMR-06
-
-
PASSAT
Passat
MINIA
-
-
-
35.0W 53.0N (+/- 2.0)
62.0
1982 May 17 0700:00
MMR-06
-
-
PASSAT
Passat
MINIA
-
-
-
35.0W 53.0N (+/- 2.0)
61.0
1982 May 21 0700:00
MMR-06
-
-
PASSAT
Passat
MINIA
-
-
-
35.0W 53.0N (+/- 2.0)
60.0
1982 May 24 0700:00
MMR-06
-
-
PASSAT
Passat
MINIA
-
-
-
35.0W 53.0N (+/- 2.0)
60.0
1982 May 26 0700:00
MMR-06
-
-
PASSAT
Passat
MINIA
-
-
-
35.0W 53.0N (+/- 2.0)
59.0
1986 Feb 12 0723:00
MMR-06
-
-
PASSAT
Passat
MINIA
-
-
-
35.0W 53.0N (+/- 2.0)
62.0
1986 Feb 14 0842:00
MMR-06
-
-
PASSAT
Passat
MINIA
-
-
-
35.0W 53.0N (+/- 2.0)
64.0
1986 Feb 17 0703:00
MMR-06
-
-
PASSAT
Passat
MINIA
-
-
-
35.0W 53.0N (+/- 2.0)
61.0
1986 Feb 19 0701:00
MMR-06
-
-
PASSAT
Passat
MINIA
-
-
-
35.0W 53.0N (+/- 2.0)
62.0
1986 Feb 21 0700:00
MMR-06
-
-
PASSAT
Passat
MINIA
-
-
-
35.0W 53.0N (+/- 2.0)
64.0
1986 Feb 26 0700:00
MMR-06
-
-
PASSAT
Passat
MINIA
-
-
-
35.0W 53.0N (+/- 2.0)
61.0
1986 Feb 28 0710:00
MMR-06
-
-
PASSAT
Passat
MINIA
-
-
-
35.0W 53.0N (+/- 2.0)
61.0
1986 Mar 03 0701:00
MMR-06
-
-
PASSAT
Passat
MINIA
-
-
-
35.0W 53.0N (+/- 2.0)
59.0
1986 Mar 05 0702:00
MMR-06
-
-
PASSAT
Passat
MINIA
-
-
-
35.0W 53.0N (+/- 2.0)
62.0
1986 Mar 07 0718:00
MMR-06
-
-
PASSAT
Passat
MINIA
-
-
-
35.0W 53.0N (+/- 2.0)
55.0
1988 Mar 18 0742:00
MMR-06
-
-
PASSAT
Passat
MINIA
-
-
-
35.0W 53.0N (+/- 2.0)
63.0
1988 Mar 23 0700:00
MMR-06
-
-
PASSAT
Passat
MINIA
-
-
-
35.0W 53.0N (+/- 2.0)
62.0
1988 Mar 25 0716:00
MMR-06
-
-
PASSAT
Passat
MINIA
-
-
-
35.0W 53.0N (+/- 2.0)
61.0
1988 Mar 30 0609:00
MMR-06
-
-
PASSAT
Passat
MINIA
-
-
-
35.0W 53.0N (+/- 2.0)
59.0
1988 Apr 01 0648:00
MMR-06
-
-
PASSAT
Passat
MINIA
-
-
-
35.0W 53.0N (+/- 2.0)
60.0
1988 Apr 04 0603:00
MMR-06
-
-
PASSAT
Passat
MINIA
-
-
-
35.0W 53.0N (+/- 2.0)
60.0
1988 Apr 06 0605:00
MMR-06
-
-
PASSAT
Passat
MINIA
-
-
-
35.0W 53.0N (+/- 2.0)
60.0
1988 Apr 13 0702:00
MMR-06
-
-
PASSAT
Passat
MINIA
-
-
-
35.0W 53.0N (+/- 2.0)
61.0
1988 Nov 02 0707:00
MMR-06
-
-
PASSAT
Passat
MINIA
-
-
-
35.0W 53.0N (+/- 2.0)
62.0
1988 Nov 09 0707:00
MMR-06
-
-
PASSAT
Passat
MINIA
-
-
-
35.0W 53.0N (+/- 2.0)
63.0
1988 Nov 11 0703:00
MMR-06
-
-
PASSAT
Passat
MINIA
-
-
-
35.0W 53.0N (+/- 2.0)
62.0
1988 Nov 14 0700:00
MMR-06
-
-
PASSAT
Passat
MINIA
-
-
-
35.0W 53.0N (+/- 2.0)
62.0
1988 Nov 16 0701:00
MMR-06
-
-
PASSAT
Passat
MINIA
-
-
-
35.0W 53.0N (+/- 2.0)
60.0
1988 Nov 18 0702:00
MMR-06
-
-
PASSAT
Passat
MINIA
-
-
-
35.0W 53.0N (+/- 2.0)
62.0
1988 Nov 23 0716:00
MMR-06
-
-
PASSAT
Passat
MINIA
-
-
-
35.0W 53.0N (+/- 2.0)
62.0
1988 Nov 28 0705:00
MMR-06
-
-
PASSAT
Passat
MINIA
-
-
-
35.0W 53.0N (+/- 2.0)
63.0
1989 Feb 01 0722:00
MMR-06
-
-
PASSAT
Passat
MINIA
-
-
-
35.0W 53.0N (+/- 2.0)
53.0
1989 Feb 03 0709:00
MMR-06
-
-
PASSAT
Passat
MINIA
-
-
-
35.0W 53.0N (+/- 2.0)
57.0
1989 Feb 05 0706:00
MMR-06
-
-
PASSAT
Passat
MINIA
-
-
-
35.0W 53.0N (+/- 2.0)
60.0
1989 Feb 08 0704:00
MMR-06
-
-
PASSAT
Passat
MINIA
-
-
-
35.0W 53.0N (+/- 2.0)
61.0
1989 Feb 12 0704:00
MMR-06
-
-
PASSAT
Passat
MINIA
-
-
-
35.0W 53.0N (+/- 2.0)
60.0
1989 Feb 17 0703:00
MMR-06
-
-
PASSAT
Passat
MINIA
-
-
-
35.0W 53.0N (+/- 2.0)
67.0
1989 Feb 22 0701:00
MMR-06
-
-
PASSAT
Passat
MINIA
-
-
-
35.0W 53.0N (+/- 2.0)
60.0
1989 May 03 0715:00
MMR-06
-
-
PASSAT
Passat
MINIA
-
-
-
35.0W 53.0N (+/- 2.0)
63.0
1989 May 10 0711:00
MMR-06
-
-
PASSAT
Passat
MINIA
-
-
-
35.0W 53.0N (+/- 2.0)
62.0
1989 May 12 0703:00
MMR-06
-
-
PASSAT
Passat
MINIA
-
-
-
35.0W 53.0N (+/- 2.0)
65.0
1989 May 17 0701:00
MMR-06
-
-
PASSAT
Passat
MINIA
-
-
-
35.0W 53.0N (+/- 2.0)
63.0
1989 May 19 0701:00
MMR-06
-
-
PASSAT
Passat
MINIA
-
-
-
35.0W 53.0N (+/- 2.0)
65.0
1989 May 24 0715:00
MMR-06
-
-
PASSAT
Passat
MINIA
-
-
-
35.0W 53.0N (+/- 2.0)
62.0
1989 May 26 0703:00
MMR-06
-
-
PASSAT
Passat
MINIA
-
-
-
35.0W 53.0N (+/- 2.0)
63.0
1990 Jan 03 0815:00
MMR-06
-
-
PASSAT
Passat
MINIA
-
-
-
35.0W 53.0N (+/- 2.0)
62.0
1990 Jan 05 0710:00
MMR-06
-
-
PASSAT
Passat
GMS90B
LP2
-
-
35.0W 53.0N (+/- 1.0)
65.0
1990 Jan 08 0729:00
MMR-06
-
-
PASSAT
Passat
GMS90B
LP3
-
-
35.0W 53.0N (+/- 1.0)
60.0
1990 Jan 12 0824:00
MMR-06
-
-
PASSAT
Passat
GMS90B
LP4
-
-
35.0W 53.0N (+/- 1.0)
61.0
1990 Jan 29 0739:00
MMR-06
-
-
PASSAT
Passat
GMS90B
LP5
-
-
35.0W 53.0N (+/- 1.0)
60.0
1990 Jan 31 0708:00
MMR-06
-
-
PASSAT
Passat
GMS90B
LP6
-
-
35.0W 53.0N (+/- 1.0)
60.0
1990 Nov 02 0801:00
MMR-06
-
-
PASSAT
Passat
GMS90E
LP1
-
-
47.0W 43.0N (+/- 5.0)
63.0
1990 Nov 05 0814:00
MMR-06
-
-
PASSAT
Passat
GMS90E
-
-
-
47.0W 43.0N (+/- 5.0)
64.0
1990 Nov 07 0726:00
MMR-06
-
-
PASSAT
Passat
GMS90E
-
-
-
47.0W 43.0N (+/- 5.0)
64.0